Chromastics Color Line
Chromastics makes a full line of quality hair care products, all from the finest natural ingredients to keep your hair healthy and great looking.
Chromastics Hair Color (Permanent and Deposit-Only)

Developed by Master Colorist and color chemist Tom Dispenza, Chromastics offers professional colorist with a reduced color line that is revolutionary and includes both permanent and deposit-only colors!  Colorist will love it's  simplicity and what this  reduced color line will bring to your business!
Salon professionals can order products on-line at any time with a code. Contact us if you need a code or additional information about using Chromastics. Professionals, purchase color here.
Chromastics Liquid Shades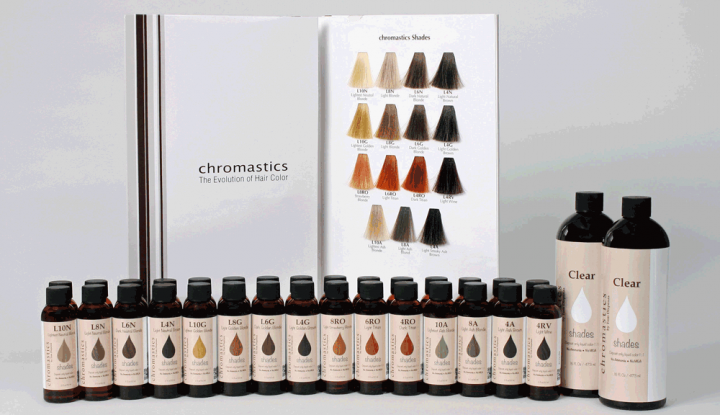 The new stand alone DEPOSIT ONLY  liquid color designed to simplify your life! Benefits include;
CUSTOMIZATION: As with all Chromastics products, you can mix and mingle different liquid shades to create a truly customized color. This is the first of its kind and unlike what you may have worked with in your standard tube of color!
INGREDIENTS=SOFTER, HEALTHIER HAIR: Blended with aloe leaf extract, hydrolyzed rice protein, hydrolyzed keratin, silk amino acids, panthenol and hydrolyzed wheat protein combined with Chromastics liquid colors creates an incredible, multi-use color product. With a lower pH, Chromastics Liquid Shades is the gentle answer every salon needs to keep your clients coming back again and again!
TIME: Now you can do simple toning (at the bowl or in the chair), refresh faded out ends, glazing and even do the simplest of corrective color all in a fraction of the time! That's good for your bottom line and your client's time.
Contact Us
207-548-1103
Testimonials
Finished the classes offered this year and I am very excited!

Michelle Adams Arute