Chromastics Color Line
Chromastics makes a full line of quality hair care products, all from the finest natural ingredients to keep your hair healthy and great looking.
Chromastics Hair Color (Permanent and Deposit-Only)

Developed by Master Colorist and color chemist Tom Dispenza, Chromastics offers professional colorist with a reduced color line that is revolutionary and includes both permanent and deposit-only colors!  Colorist will love it's  simplicity and what this  reduced color line will bring to your business!
Salon professionals can order products on-line at any time with a code. Contact us if you need a code or additional information about using Chromastics. Professionals, purchase color here.
Chromastics Liquid Shades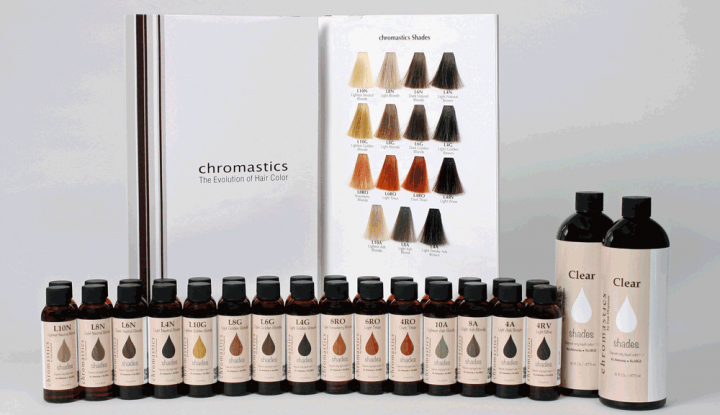 The new stand alone DEPOSIT ONLY  liquid color designed to simplify your life! Benefits include;
CUSTOMIZATION: As with all Chromastics products, you can mix and mingle different liquid shades to create a truly customized color. This is the first of its kind and unlike what you may have worked with in your standard tube of color!
INGREDIENTS=SOFTER, HEALTHIER HAIR: Blended with aloe leaf extract, hydrolyzed rice protein, hydrolyzed keratin, silk amino acids, panthenol and hydrolyzed wheat protein combined with Chromastics liquid colors creates an incredible, multi-use color product. With a lower pH, Chromastics Liquid Shades is the gentle answer every salon needs to keep your clients coming back again and again!
TIME: Now you can do simple toning (at the bowl or in the chair), refresh faded out ends, glazing and even do the simplest of corrective color all in a fraction of the time! That's good for your bottom line and your client's time.
NEW: Chromastics Concentrates
This is 100% oxidative color as there are no direct dyes mixed in with Concentrates.

 Concentrates Can:
…be added to any brand of permanent or demi-permanent color that uses a developer or peroxide. They will enhance and create longer lasting color with all professional brands.
…be added to any level of hair color Referring to the "Concentrate Chart" will guide you to the amount to add to each level of color when you first start using Concentrates. Once you see the results, you can adjust the amount for each client. The guide keeps you in the "safe zone" when first staring out.
…be used by themselves as Fashion Tones. They don't always need to be added to color formulas. If you want electric red or bright green or intense blue just mix the concentrate with an equal amount of 10-volume developer and apple to either white or pre-lightened hair.
…be intermixed with each other to create new concentrates. Intermixing red and blue creates violet concentrate. By adding "clear" you can create pastel shades.
Contact Us
207-548-1103
Testimonials
Another successful conference! The dedication that Randy and Toni put into this event is a tribute to it's success! Thank you from the bottom of my heart for allowing me to participate and share and learn.

Bonnie Ray
New Image