LIVE CLASS: Color Analysis | 🎟️: $47+
October 26, 2020 @ 10:00 am

-

4:00 pm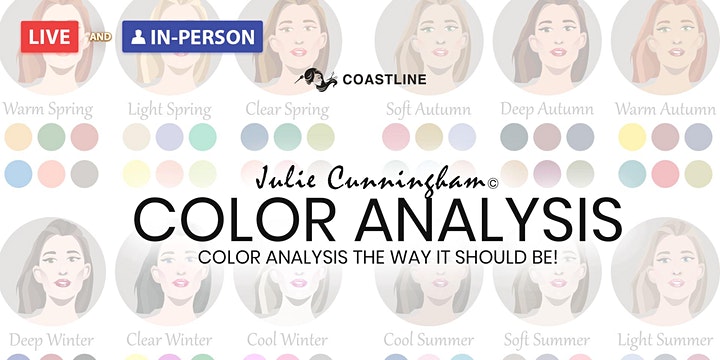 CLASS DESCRIPTION:
Learn the secrets of world-class color analysis. Color Analysis done correctly is based on the three characteristics of color: hue, value, and chroma. This is the basis for a strong understanding of color analysis and the key to any proper consultation.

Julie will be unpacking the fastest way to look your best. Looking at skin, hair, and eyes to determine the palette of colors that best work with your natural color.

A must for any Hairstylist.

Transforming how you think about Color Analysis
Going in-depth on topics like:
FACE
The correct colors under your face give you a healthy, vital glow that you get no other way. Seeing is believing and you probably cannot imagine the difference the right colors make to your total look, combining this with the perfect hair color brings your color analysis ability to new heights.
MAKEUP
The makeup for your palette looks like you just woke up that way…it is natural and enhancing. You do not look like you are wearing makeup, you just look better. Having a practical approach to makeup colorization enabling you to save time & money..no dead makeup drawer.

WARDROBE
When you stay in your palette of 42 colors (which means you get hundreds of actual shades…the swatches are a guide), everything in your closet goes with everything else. You learn your neutrals, lights, brights, and accents. You get mix and matchability that you never dreamed of having with our system…and the best part is you look good in all of your clothes. Your makeup, clothes, and face all are in total harmony.

Take your consultation skills to the next level in this amazing live class with guest educator: Julie Cunningham.
🎟️ TICKET INFORMATION
🟢 Online Private Live-Stream Tickets:* $47
👤 In-Person Tickets: $97
*Online Private Live-Stream tickets have a 30-day video rePlay reWatch option.